Welcome to 'Spring of Life' -
The Special Ayurveda Spa Centre in Sri Lanka
Dear Friend and guest! We have good news for you!
From Dezember 2021 our little paradies "Ayurveda-Spring of Life" will be open again.
In Dezember 2021 we will grant a discount of 30% and from January until March 2022 we can lower the prices by 20%.
Information for the entry: The airport in Colombo is open again for international passangers.
We have redesigned our website with text and photographs and invite you to allow yourself to be enchanted by the exotic and relaxing atmosphere of our personal Ayurveda Spa Centre at the Bolgoda Lake in Sri Lanka. Take some time – lean back, breathe deeply and immerse yourself into the 'Spring of Life' as the source of life energy. With our friends, we have created 'Spring of Life', a beautiful place for regeneration, healing and recovery, which finally opened in 1998.
Come and get to know the atmosphere and work of our treatment centre and the varied possibilities offered by ayurvedic medicine, nestled in the wonderful continually blossoming natural world, with a diverse fauna. You will be able to rest and leave the daily grind behind, and your body can be cleansed, regenerated and healed.
Time and Leisure for Yourself
To have time and leisure for yourself, to rest a tired body and stressed mind, indulge yourself just once and get to know Ayurveda the 'wisdom of a well being'...
Fulfil this wish for yourself!
Our small lovingly run and maintained Ayurveda Spa Centre 'Spring of Life' offers you this opportunity, on one of the most beautiful islands in the world!
Everything is arranged with skill and sensitivity to suit your individual wishes and needs. Every day invites to experience vitality, peace and tranquillity. And everything is based on our longstanding experience with Ayurveda, the ancient therapy of India and Sri Lanka.
Recovery for Mind, Body and Spirit
Here at 'Spring of Life' you will also find time to immerse yourself in the wonderful and exotic natural world, and the rich animal life in the water, the air and the earth.
Take a deep breath and relax in the personal atmosphere of our spa centre. Our experienced staff is committed to care for you wholeheartedly, they wish to indulge you to bring out your radiance. We all take great pleasure in achieving this goal.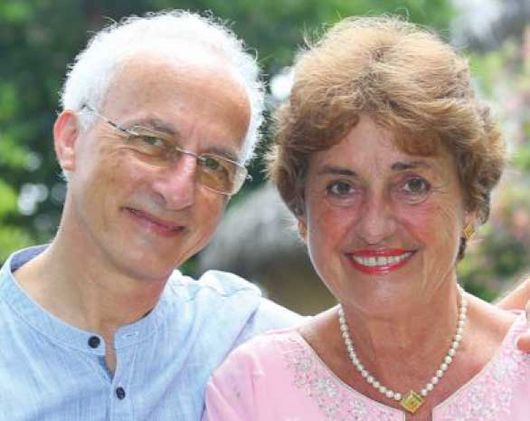 Find out more about our social projects in this beautiful country! Since 1980 we have endeavoured to support the poorest of the poor. We can only wonder at the hospitality offered by these people in the most modest villages. To tune in we recommend to start with the paragraph »Happiness Begins with a Smile...«
Our website about these social projects is currently in the process of being redesigned.
www.ursula-beier-sri-lanka-hilfe.de
Call up and allow yourself to be moved and 'body, mind and spirit' to be realigned – all in the spirit of Ayurveda, 'the Wisdom of Life'.
We hope to have given you an insight into our work and endavours. We are looking forward to your interest and response - and obviosly to your visit to 'Spring of Life'.
Ursula Beier and Albrecht Platter