Ayurveda Spa Centre inSri Lanka
Welcome to 'Spring of Life' - The Special Ayurveda Spa Centre in Sri Lanka
For information on the current Covid-19 situation for entry, please visit the website of the German Foreign Office.
10% discount in High-and Low-Season until 15th April 2024!
Dear friends in Sri Lanka and all over the world who wish to be a great contribution to Sri Lanka's volatile economy in the long run.
It is of paramount importance that tourists flowing in to the country in order to uplift the economy and the life of people, who comes from micro economics and are in utmost necessity to survive and support their families.
Each and every Euro comes in to the country makes a huge difference to the betterment of everyone involved. There are many innocent workers who are desperate to make a living by working as a tuc- tuc driver, maid, gardener, cook, waiter and many more minor jobs, merely to feed their families and to have an average life.
With that in mind in a more philanthropic and charitable approach, we, Ayurveda Spring of Life decided to offer a very special promotional package with 10% discount in High-and Low-Season until 15th April 2024!. Our main objective is to have a win-win situation for both Sri Lankans and Europeans.
Despite of the socio-economic turmoil and hardships to face during challenging situations, the locals live up to their genuine values of great hospitality by the adage "Whatever you do, do it with a smile" at all times. This is the key and a clear reflection to their service standards and the utmost care rendered to each and every guest.
We invite you to experience it first hand by yourself, and enjoy the warmth and cordiality of Sri Lankans. It has been absolutely problematic for the last two and half years for the entire Globe, including Europeans and Sri Lankans on the same gravity. It is time to let the difficult times aside and take deep breath and prepare for a new future.
Ayurveda Spring of life gives you the best solution, by offering many unique treatments to re-generate your mind and body towards tranquility, calmness, good health and peace of mind.
Our entire team of staff is looking forward to welcoming you and taking care of all your needs and to support achieving the fresh mindset and physical wellness of a "NEW YOU". Come and pamper yourself; enjoy the serenity and stillness; experience the nature and explore the essence of Sri Lanka and its authentic beauty and legendary Ayurveda values.
P.S. In our perspective, Man and Nature creates an essential Unity. The more we blend with the nature, more we support to reduce Co2 footprint. We actively support rainforest protecting projects in Sri Lanka as well. You can be a part of it by making a visit to Sri Lanka and giving us an inspiration.
Ayurveda cure in Sri Lanka at the Spring of Life Ayurveda cure centre
We invite you
We have redesigned our website with text and photographs and invite you to allow yourself to be enchanted by the exotic and relaxing atmosphere of our personal Ayurveda Spa Centre at the Bolgoda Lake in Sri Lanka. Take some time – lean back, breathe deeply and immerse yourself into the 'Spring of Life' as the source of life energy. With our friends, we have created 'Spring of Life', a beautiful place for regeneration, healing and recovery, which finally opened in 1998.
Come and get to know the atmosphere and work of our treatment centre and the varied possibilities offered by ayurvedic medicine, nestled in the wonderful continually blossoming natural world, with a diverse fauna. You will be able to rest and leave the daily grind behind, and your body can be cleansed, regenerated and healed.
Time and Leisure for Yourself
To have time and leisure for yourself, to rest a tired body and stressed mind, indulge yourself just once and get to know Ayurveda the 'wisdom of a well being'...
Fulfil this wish for yourself!
Our small lovingly run and maintained Ayurveda Spa Centre 'Spring of Life' offers you this opportunity, on one of the most beautiful islands in the world!
Everything is arranged with skill and sensitivity to suit your individual wishes and needs. Every day invites to experience vitality, peace and tranquillity. And everything is based on our longstanding experience with Ayurveda, the ancient therapy of India and Sri Lanka.
Recovery for Mind, Body and Spirit
Here at 'Spring of Life' you will also find time to immerse yourself in the wonderful and exotic natural world, and the rich animal life in the water, the air and the earth.
Take a deep breath and relax in the personal atmosphere of our spa centre. Our experienced staff is committed to care for you wholeheartedly, they wish to indulge you to bring out your radiance. We all take great pleasure in achieving this goal.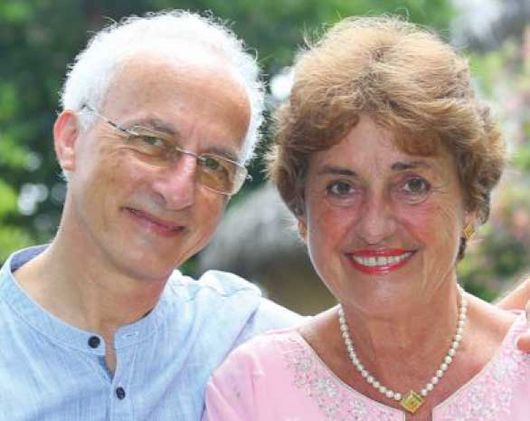 Find out more about our social projects in this beautiful country! Since 1980 we have endeavoured to support the poorest of the poor. We can only wonder at the hospitality offered by these people in the most modest villages. To tune in we recommend to start with the paragraph »Happiness Begins with a Smile...«
Our website about these social projects is currently in the process of being redesigned.
www.ursula-beier-sri-lanka-hilfe.de
Call up and allow yourself to be moved and 'body, mind and spirit' to be realigned – all in the spirit of Ayurveda, 'the Wisdom of Life'.
We hope to have given you an insight into our work and endavours. We are looking forward to your interest and response - and obviosly to your visit to 'Spring of Life'.
Ursula Beier and Albrecht Platter