Let go of the Stress of Everyday Life
The Ayurveda treatment supports you to let go of the stress of everyday life and to reconnect with your inner peace and serenity by rebalancing your nervous system. An intense detoxification and purification of the stressed organism strengthens the self healing powers and the immune system. This will change your life. Ayurveda does not just treat the visible symptoms. Our experienced Ayurvedic physicians perceive with the help of pulse diagnosis the disturbances of the doshas. Following an in-depth consultation your individual programme for a successful treatment is put together. Naturally this is based on the three pillars of Ayurvedic knowledge endorsed over millennia.
Balancing the elements through physical treatments
Conscious Nutrition
Phases of rest and medical care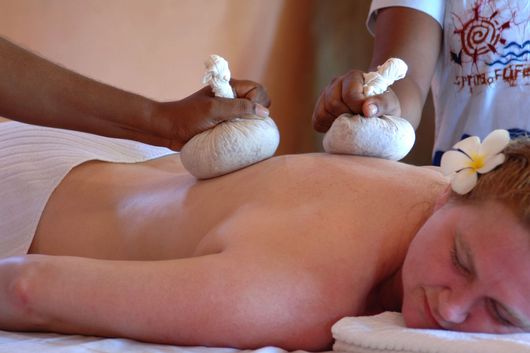 Carefully Clean the Body – Gently Restore the Gut
As a guest of 'Spring of Life' the body experiences a gentle cleanse. The gut is purified and restored, nose and sinuses become clear again.
With the help of the gentle and effective whole-body synchronous massages the precious, individually chosen oils can permeate every pore, opening the cells into the deepest past. Everything begins to move and vibrate within. The calming forehead affusion (shirodara) using warm herbal oils induce deep relaxation.
Invigorating and calming head, neck and foot massages dissolve old blockages. Baths scented with a variety of herbs encourage a holistic cleanse. And when you are taken to the healing herbal sauna and experience the cleansing sweat in the 'steambox', you will connect more and more with a sense of joy and serenity.
The oil head treatment (shirovasti) restores the great order of the nervous system and harmonises the five senses.
The end of your treatment culminates in a beautiful flower bath where you can dream and relax in the midst of Lotus- and Tempelflowers, Hibiscus, Jasmine and Sandalwood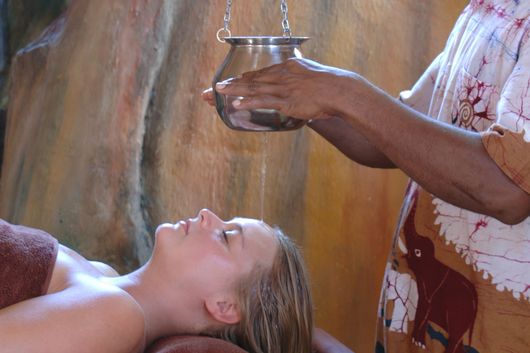 Relaxation under Medical Care
This is merely an extract from our treatment programme. Our caring and highly trained team is always happy to help and is mindful of the bodily and emotional welfare of our guests. Of equal importance as the treatments is the medical care. Our physician is available at all times, but if you wish we welcome assistance from outside specialists in cases of serious illness such as cancer, depression, eye, nose, and ear disturbances, Multiple Sclerosis, Parkinson etc.